When it comes to dog names, it turns out that some Pima County residents are way more creative than others.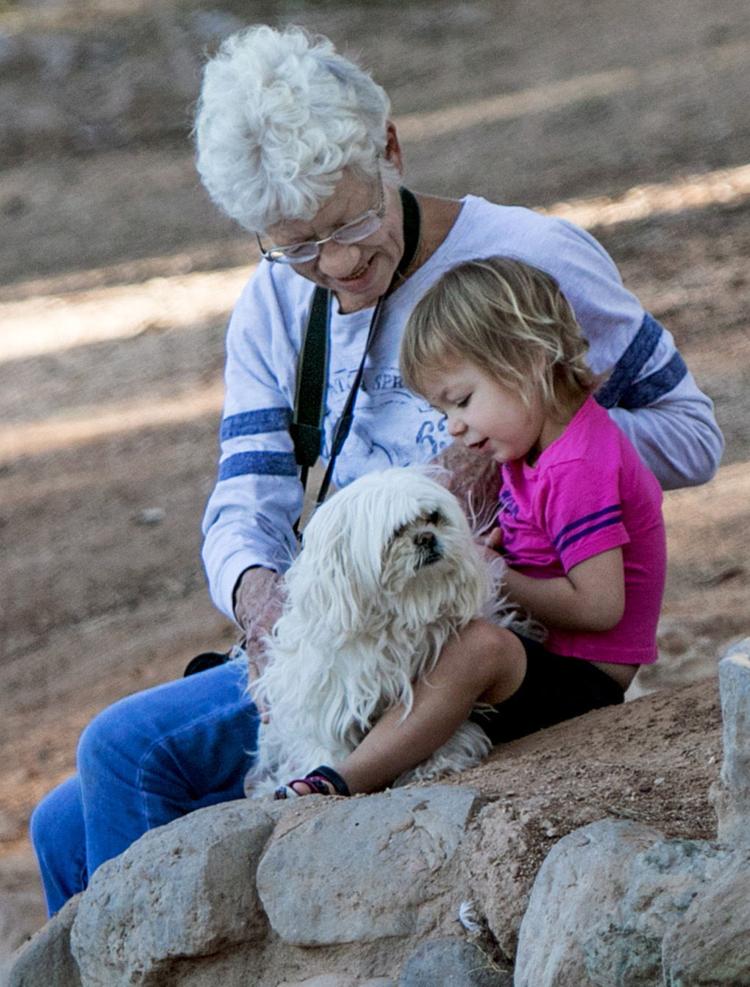 Abigail Harker, 2, sits with her Havanese-Pekingese mix Lucie Liu and great-grandmother Mary Binkinz at Reid Park.
Of nearly 82,000 dogs registered with the Pima Animal Care Center, more than 1,000 are named Bella, making it the most popular dog name in the county. And that's not including all of the variations of Bella, such as Bella Donna or Bella Roo. 
On the other extreme, there's only one dog named Beyonce in Pima County — at least among dogs who are registered. 
The names range from literary and pop culture references, to various spellings of famous people's names, to food items — such as McRib, Pork Chop and even Toast.
Some dogs were named after corporate chains, including IKEA, Walmart and Dollar General. 
Keep in mind: Not all dogs are registered, but they should be. All dogs older than 3 months are required by state law to be vaccinated for rabies and licensed. 
More than 10,000 dog names in Pima County are one-of-a-kind, but not all are clever. Here are some standout dog names: 
The pop culture references 
The list includes a black pug named "The Dude," with quote marks and all, in homage to Jeff Bridges' character in The Big Lebowski, a black comedy classic directed by the Coen Brothers. 
There were also numerous Harry Potter references, including but not limited to Luna Lovegoo and Grumbledor. Nearly 30 dogs in Pima County are named Dobby, after a house elf that first appears in the Chamber of Secrets. 
Characters from the popular HBO series Game of Thrones also made appearances on the list, including Brienne of Tarth, a white American bulldog, and Jon Snow, a red greyhound.
Several U.S. presidents' names are represented or appropriated, including Obama, Trump, Roosevelt and Jef-Fur-Son, along with literary figures, such as Harper Lee, the author of To Kill a Mockingbird.
More classical names such as Gershwin and Picasso make appearances on the list of Pima County's registered dogs.
There are also dogs sharing names of Hollywood stars, including Gene Hackman, a white Queensland heeler, and (cheekily misspelled) Brad Pit, a white pit bull.
Followed by: Molly, Charlie, Bailey, Sadie and Maggie.
1. Labrador retriever — 8,676
3. German shepherd — 6,429
Followed by: dachshund, Australian shepherd, miniature poodle and boxer.
This content was originally published here.